Joy is an Act of Resistance
March 19, 2021


8

minute read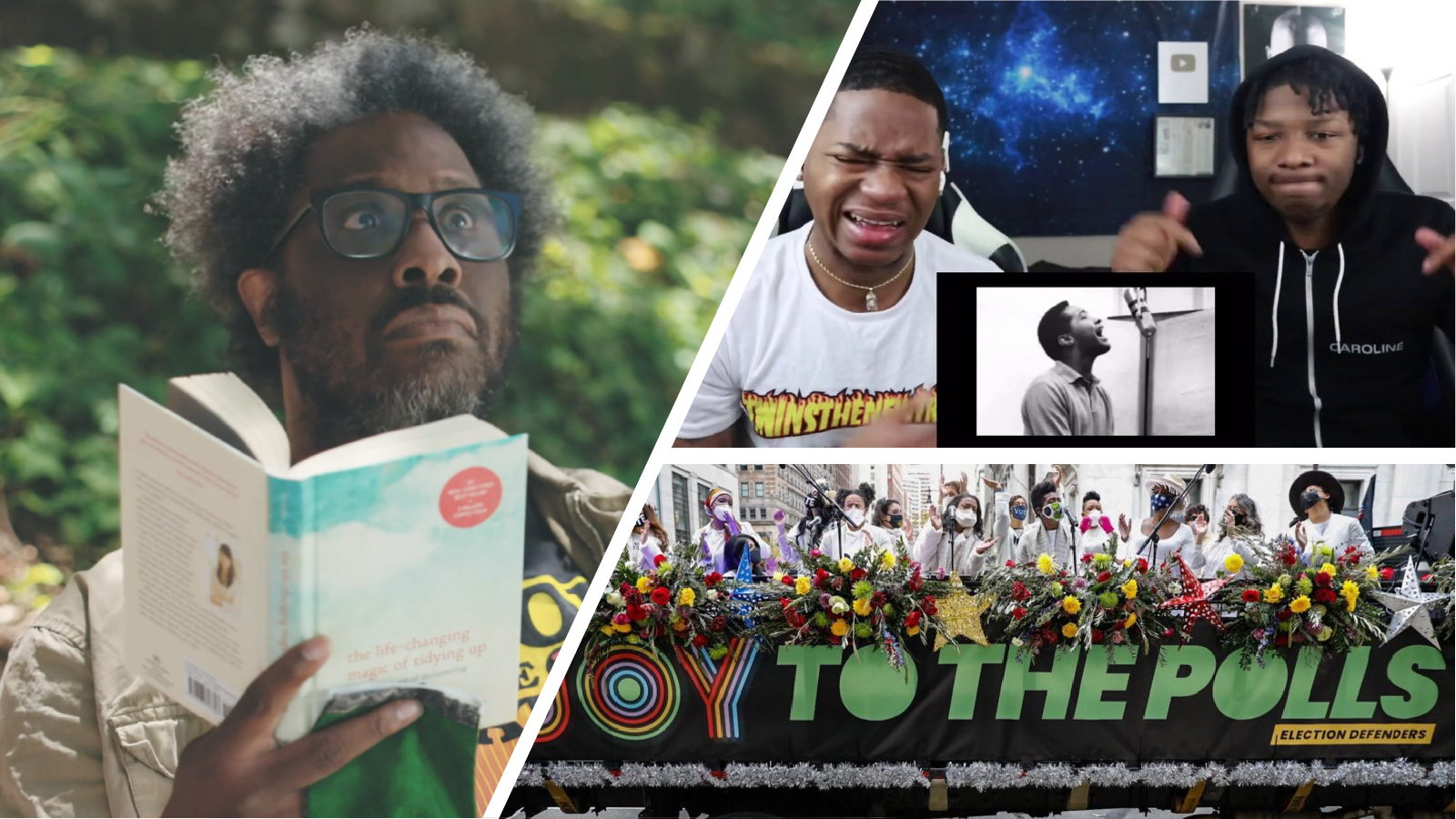 It was a Saturday in November at an early voting location in Southwest Philadelphia when the singing began. A group of singers wearing all white performed on top of a flatbed truck decorated with flowers and streamers, with "JOY" painted in rainbow letters on the side. This joy that I have, the world didn't give it to me, and the world can't take it away, were among the lyrics projected from this roving stage. 
When the singers, who are part of the Resistance Revival Chorus and of Joy to the Polls, finished performing, they went to cheer on people waiting in a long line to vote, running up and down the line. A DJ started playing music, and people were starting to get inspired. One young man on the voting line, Klinton Cooper, with mask on, ear phones tipped back, danced the Cha Cha Slide. Soon others joined in. Some older, some younger started to dance—twisting, dipping, sliding side by side in unison; soon the whole line was swept up in spontaneous delight. Someone captured the scene on video, and it went viral, with Rachel Maddow, BuzzFeed, The Guardian and many other outlets covering that incredible moment.
At a time when fear, violence, and division have metastasized across our country; when a deadly pandemic has killed hundreds of thousands of Americans, disproportionately affecting Black, Indigenous, and People of Color; during an election season with unprecedented misinformation and attacks on the right to vote, this moment was a release. It was a dance of liberation, a celebration of the power people have to defend democracy. It was a dance of community coming together to determine our own futures. 
Cooper told the Philadelphia Inquirer that that moment was a joyful one during a year of intense pain, which included watching videos of police killing Black people. "This is what we've been dealing with for centuries and we fight every day," he said. "But the thing about our joy is that it makes us what we are."
Joy to the Polls is one of several projects supported by the Becoming America Fund at the Pop Culture Collaborative that cultivates joy through dance, music, laughter, and humor, to move us closer to Becoming America's long-term vision: where a majority of Americans—more than 150 million people—actively co-create a just and pluralist nation in which everyone is perceived to belong, inherently, and is treated as such. 
UNDERSTANDING THE ABUNDANCE MINDSET
Each of the projects supported by Becoming America that centers joy advances the "abundance" mindset, helping move millions of people towards an expansive sense of possibility, of curiosity, and to open our imaginations of what we're capable of, individually, and collectively. As the Collaborative articulates, the abundance mindset is often expressed in communities of color, and immigrant, Indigenous, Trans, Queer, and Disabled communities, "who assume that we can always 'make a way out of no way' and always make room at the proverbial table." It is also the spirit of "hope, bravery, and 'yes we can' attitude" that has sparked social innovation in America for centuries. 
Letting go of constraints and imagining possibility is essential groundwork for having difficult and inspiring conversations. Before digging into a conversation about immigration policy, or policing, or climate change, says Pop Culture Collaborative's Chief Executive Officer Bridgit Antoinette Evans, "we first need people to be in a place of thinking expansively, where their imagination is leaping off the page, where they see the world as bigger than just their tiny corner of it." 
So how do we normalize that practice of warming up and shedding constraints, and do so for millions of people? Abundance, or the feeling of being open to expansive possibilities, is often most reliably created through a physical experience, like dance and music, says Evans. Specifically, the kind of dance that is communal, and "that gets at you in your soul." 
When people sing or dance together, there are physiological changes that happen to our bodies. Heidi Boisvert, who leads futurePerfect Lab, a Becoming America grantee, has studied this phenomenon. She describes how our bodies are "archives of stories," and how "dance and performative gesture… carry the potential to rescript our nervous system." She writes, "If motion emerges out of emotion, then the opposite is also true; we can transform emotional states through activating new sensory-motor routines as a result of free, unguided bodily expression."
Additionally, the experience of a joyful community activity engenders a feeling of belonging: an embodied, emotional experience that is critical. Researchers like Jeff Yang, whose company Metafo.re is also part of the Becoming America grantee partner network, have shown that having clear, concrete proof that we as individuals can belong in a space or a group makes us able to imagine creating larger and larger spaces where belonging is possible for more people. 
A defining aspect of the yearning, and reaching for joy, is that it is being led by Black, Indigenous, and People of Color, and Trans and Queer folks. "We have been told relentlessly that joy is not ours to have," says Evans, who is Black. "But we are reclaiming it, and reshaping it in our own image. We are the ones who are creating and defining the spaces in which joy is at the heart." 
Heading into 2020, the Becoming America Fund set out to support projects that get mass audiences dancing, moving, listening to music together, laughing, and warming us up so that we can expand our imaginations enough to engage in a massive national conversation about what belonging looks like in this country.
Act 1: Joy to the Polls—Voting can be a celebration
Joy to the Polls is a nonpartisan movement to "make voting a celebration." It was established in partnership with Election Defenders to bring joy, art, and community to polling places, and to inspire and motivate voters in places where there was expected to be voter suppression, threats, intimidation, and other election-related challenges. Joy to the Polls connected with artists and activists in all 50 states, partnering with other aligned groups as well, like Chef for the Polls, and Pizza to the Polls, because the more the merrier, from their perspective. 
The founders of Joy to the Polls, including organizer Nelini Stamp, and artists and cultural organizers Paola Mendoza and Sarah Sophie Flicker, along with several others, had been seeding the concept of joy for several years before the 2020 election season. In 2017, they formed the Resistance Revival Chorus, a collective of women and non-binary singers whose central tenet is that joy is an act of resistance. They could see that people were attracted to the notion that joy is resistance, and the joy itself is powerful. Compared to when you organize out of anger or injustice, which are also completely valid, but which deplete you, "When you organize out of love, the feeling is expansive, it allows you to keep on growing," says Mendoza. "Joy is the same—it gives you strength. It is abundant in nature."
When Joy to the Polls performed in Philadelphia on the day that Klinton Cooper danced the Cha Cha Slide, it "set a really good tone," says Flicker. "So much of feeling joyful is feeling like you have permission to do it," she notes. "We sort of unlocked the box that there could be joy around the elections."  In addition to the media attention that Joy to the Polls garnered, Barack Obama, Lin-Manuel Miranda, and many others created Joy to the Polls playlists.
Act 2: TwinsthenewTrend—Music links generations and expands our imaginations 
Tim and Fred Williams, two Black brothers in their early twenties who live in Gary, Indiana, became Youtube sensations in 2020 with their channel, TwinsthenewTrend. The twins film themselves listening to songs for the first time, by Dolly Parton, Stevie Wonder, Alicia Keys, Janis Joplin, and others. 
In one video, filmed on November 1, 2020, as part of the Becoming America Festival, they listen to Sam Cooke, "A Change is Gonna Come," made in 1963. Their style is to listen, and pause and reflect, to their viewers, and then listen some more. As they begin listening, Tim says he has goosebumps. "That's how change is going to come—everyone standing together." They begin talking about how every vote counts, to make sure your friends vote, and your family votes. Back to the music, hands over their hearts, they shake their heads, feeling the music. It's been a long time coming, but I know a change is gonna come, yes it will. "This is one of the songs back in the day people used to march to." They pause and talk about how even if you feel like your vote doesn't matter, it does. "We've got to stop bringing each other down, we've got to lift each other up." 
Through their videos, the Twins invite viewers to share in their discovery, delight, curiosity, and respect for artists of different traditions, weaving a thread through the generations who have come before them. And with the Sam Cooke song and experience, they used their platform of millions of viewers to encourage listeners to be civically engaged. 
What makes their presence so powerful is that they are the protagonists of their own story, manifesting their own positive future, just as they encourage their listeners to do. "The internet, particularly YouTube, allows young Black folks to rediscover music on their own terms," André Brock, author of Distributed Blackness, told Rolling Stone magazine, in a piece about the Twins. "But it also allows them to rediscover a joy in music that wasn't necessarily labeled as for them or which they understood to not be for them."
Act 3: " 912, What's Your White Emergency?"—The role of humor 
Offsides Productions takes the approach that comedy can help us see that another world is possible, and invites us to step off the sidelines to join in. "912, What's Your White Emergency?," which was made in partnership with Color of Change's campaign to end police violence, brutally satirizes how White people have abused 911 in ways that cost Black people their safety, and sometimes their lives. (Because of that reality, the sketch imagines a new emergency number—912—just for problematic White people.)
In the 912 video, comedian and Emmy winner W. Kamau Bell plays a man quietly reading on a park bench, while a White woman reports him to the police in an Amy Cooper–type situation. She is transferred to an operator, played by Sarah Silverman, who instructs her on what she needs to hear about white privilege and structural racism. Silverman summons aload of timely and urgent books, like Michelle Alexander's The New Jim Crow, and Don't Call Us Dead, by Danez Smith, to be dropped from what sounds like hovering aircraft into the park. "912, What's Your White Emergency?", which was directed by A'Darius Bell and Adam Mansbach, garnered over 8 million views on social media. 
Comedy is one of the best ways to start a conversation about a difficult topic, says Josh Healey, Executive Producer and Writer at Offsides Productions. "Comedy is one of the few ways to get beyond your echo chamber and to really humanize the speaker, humanize the listener, and humanize the topic," he says. "When you make someone laugh, there's an immediate connection of humanity."
Healey notes how, especially in activist and progressive circles, we spend most of our time communicating in anger or sadness. While these two emotions are valid and powerful, they are only one end of the spectrum, and they will only reach certain people. "Joy is a more hopeful space, and a space of possibility," he says. "With comedy, the cultural and political possibilities give you a broader range in terms of topics, and in reaching large numbers of people."
Caty Borum Chattoo, Executive Director of the Center for Media & Social Impact and Co-Founder/Co-Director of the Yes, And…Laughter Lab, whose Radical Kindness Comedy Writers Room is also part of the Becoming America network, has produced media, researched and written extensively about comedy and social change; she is author of the forthcoming The Revolution Will Be Hilarious: Comedy for Social Change and Civic Power (NYU Press). She describes the two primary roles that comedy plays in a culture: social critique, "where comedy points out what is so absurd or grotesque that it deserves to be lampooned in some way" and what Borum Chattoo calls "civic imagination." With civic imagination, comedy shows us what things look like and feel like when we've imagined them to be better. Joy is the channel through which this opening takes place, when people experience comedy, versus a news treatment about the same issue. "Not only are they more likely to feel some kind of empathy and connection to the issue, but the persuasive route by which that travels is feeling optimism and joy. So optimism and joy can be uniquely persuasive and powerful."
Joy in 2021 and beyond  
In 2021 and beyond, joy, and the abundance mindset, are going to be ever more important. 
Joy is the counterpart to grief; the two emotions are mirror images of each other. Our country has tremendous grieving to do, and we will need to undergo a collective process of accountability and recognition of systemic injustices in our society, in order to fully and authentically engage in healing and then transformation. At the same time, we have a magnificent, and urgent, opportunity to open our imaginations to a new future. Joy, and the abundance mindset, are integral to the healing, and they are integral to the imagining. Moving ahead, says Evans, "We have to build up our capacity to hold grief, and to hold accountability for the harm that we may have contributed to, and we need to be able to express joy, and to believe in ourselves and in our potential to build something new." 
Note: The title, "Joy Is an Act of Resistance," is from a poem of the same name by Toi Derricotte, an African-American poet, (born 1941).
Elyse Lightman Samuels is a writer with an interest in narrative-driven, solutions-focused storytelling; and she is Communications Manager at Unbound Philanthropy, a private independent foundation that invests in leaders in the US and UK working to build a vibrant, welcoming society and just immigration system.